Eating healthy on budget can be a challenging task anywhere. However, add being on an island in the middle of the Pacific Ocean the challenge just explodes to crazy new levels. I have been finding ways to eat healthy while staying on budget and wanted to share some of my strategy with you all. We all know protein is an important part of our diet. In fact, the US RDA amounts for protein consumption are low for those that want to lose weight or build muscle. Fresh meat (poultry included) can be quite expensive. An excellent cost savings option is to do protein alternatives (read non-meat protein). I love to change things up from time to time when it comes to protein and saving money gave me yet another reason to broaden my horizons on the many protein options in the markets.
This month I made a super delicious and really quick/easy high protein meal. I call this "Mexi-style stir fry". There are ways to add in a little bit of high-quality carbs to make it more filling if you find that you need more carbs. The basic ingredients are plain Greek Yogurt, a bed of fresh kale, some grape tomatoes, salsa (my favorite is Green Mountain Gringo Hot), and LightLife's Mexican style smart crumble.
Ingredients:
1 glove garlic smashed and finely chopped
1 tbsp olive oil
8-10 grape tomatoes cut in half
1 package of light life's Mexican style smart crumble
Non-Fat Greek Yogurt (garnish)
Salsa (garnish)
Cooked brown rice (optional)
Heat oil and chopped garlic in a non-stick pan. Break up the crumble in the pan and warm for about 3-5 minutes stirring occasionally. Add in the tomatoes and cook for another 1minute or so. In a Bowl or dish, place about ½ cup of chopped kale, 2 TBSP of plain fat-free Greek yogurt, cover with about 1/3 of the mixture from the pan. Top with a few tablespoons or ¼ cup of your favorite salsa. If you need more carbs than kale and tomatoes (yes, vegetables are carbs!), then add ¼ cup of cooked brown rice.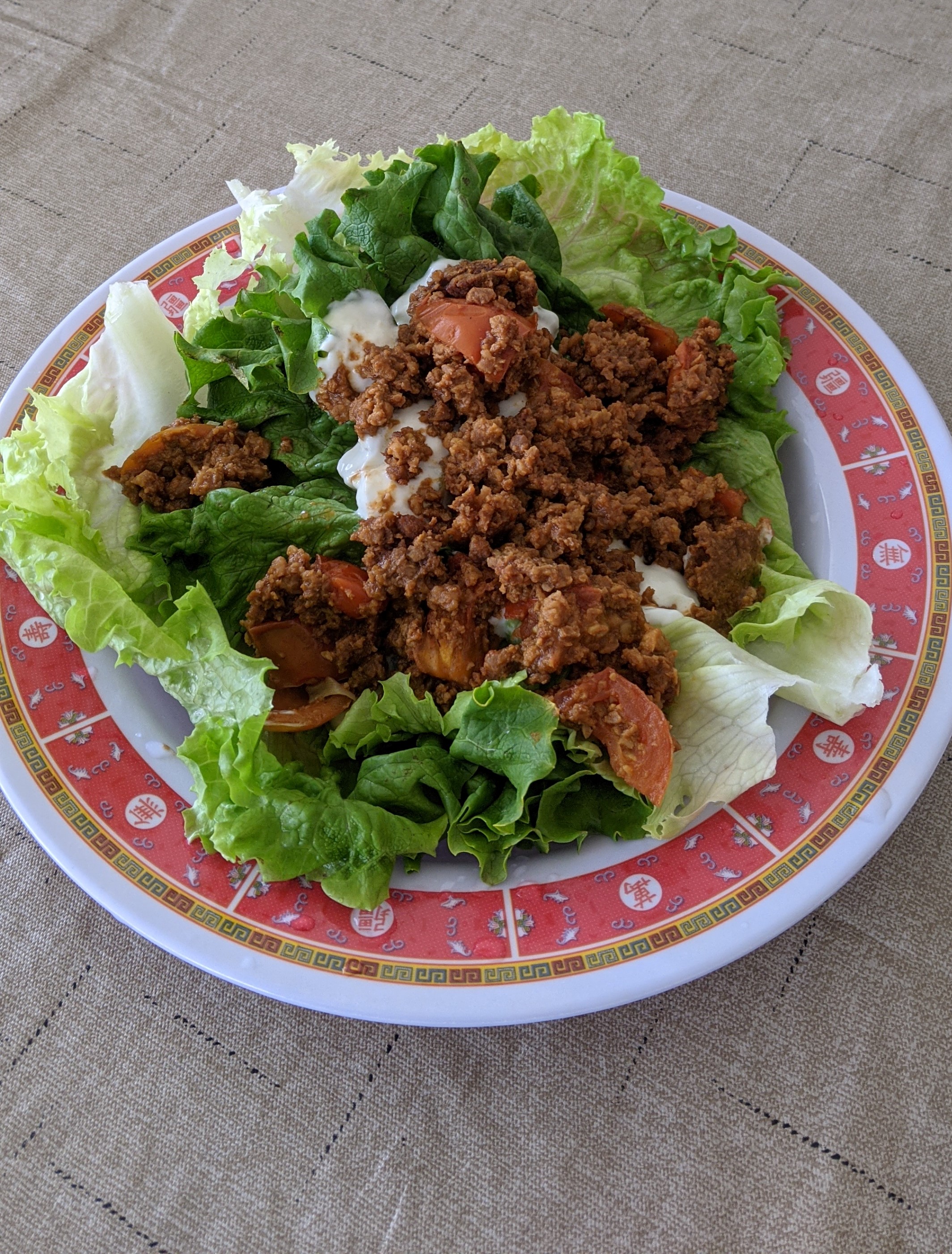 Another way of getting healthy proteins is to make hearty soups and stews using beans. Beans are a great source of protein and fiber. Making them filling and healthy. Beans are also inexpensive when compared to meat. One of my favorites is multi-bean soup with a tomato base. I got a pound of dry mixed 11 bean blend for $3.00. Seriously my protein base for about 6-10 servings for $3.00. That is hard to beat. This creates a very delicious soup that when paired with some hearty sourdough bread was very filling and quite inexpensive.
Full recipe is easy but does require the prep-work of soaking the beans for 12 hours or overnight.
Ingredients:
2 tbsp olive oil
1 medium onion diced
1 clove garlic minced
1 cup of dried bean mix
4 cups of vegetable stock
2 cups of water
28 oz can crushed tomatoes
2 tbsp tomato paste
2 tsp chili powder
Non-Fat Greek Yogurt is an optional garnish

Put beans in a pot and pour cold water onto them until they are covered with 2 inches of water. Soak for at least 12 hours or overnight. Drain and rinse beans.
Heat oil in large pot add the onion and garlic and cook until onion is transparent. Add chili powder, crushed tomatoes, vegetable stock, the beans (that were soaked and have been drained). Plus 2 cups of water. Bring the mixture to a boil and reduce heat to a simmer, stirring occasionally for 90 minutes or until beans are cooked and softened. When serving you can add a scoop of Greek yogurt to the bowl, I switched from sour cream to Greek yogurt a few years back and quite frankly I like it better. I love the added protein that Greek yogurt brings and that it is lower in fat and total calories than sour cream.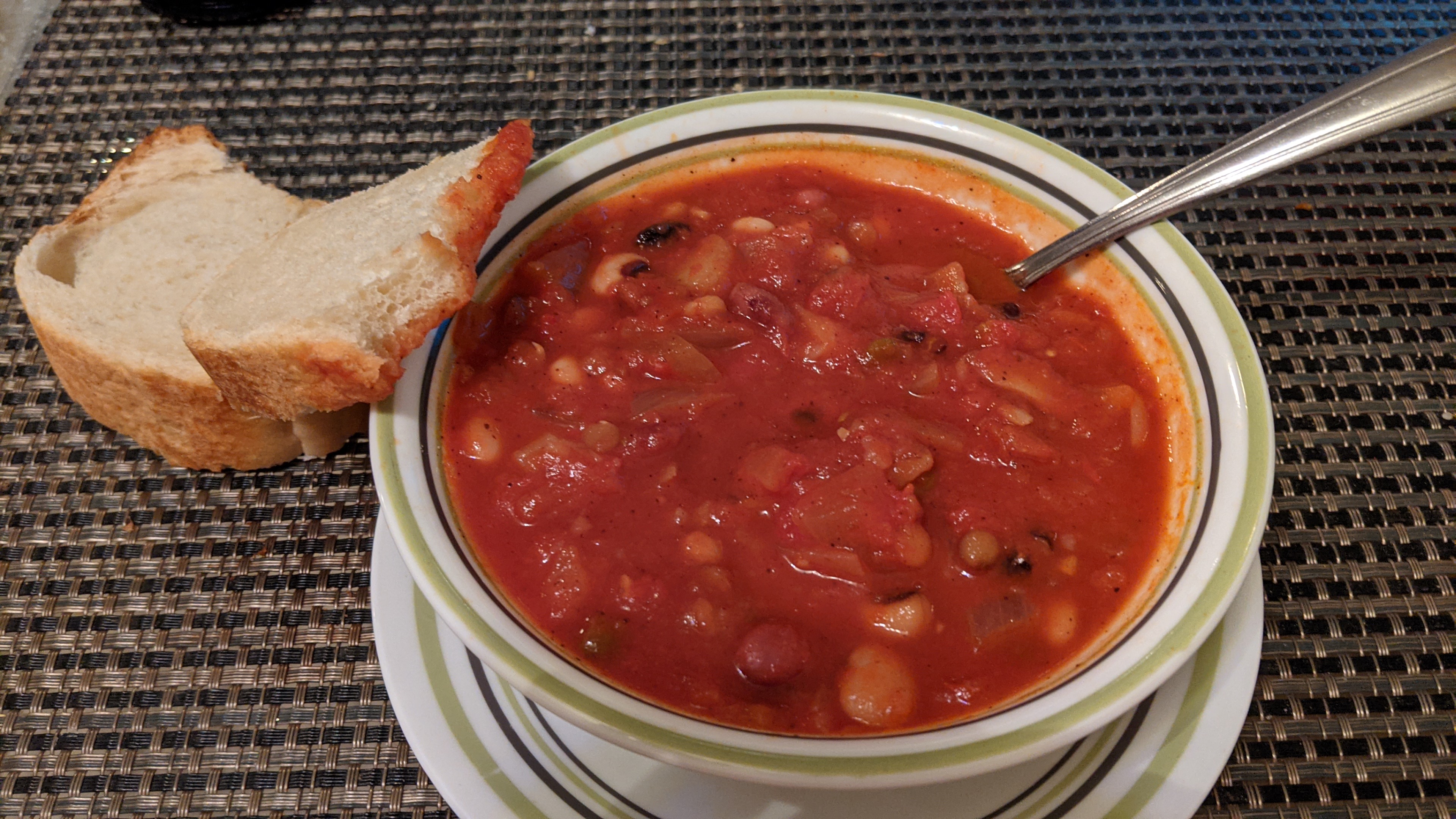 Let me know if you try any of the above recipes and how you like them. If you want more, recipes like this or need some other protein ideas, email or call from the contact buttons on the top of the page!