Seriously, canned Tuna or Salmon are high in protein and omega-3. Canned Salmon also has good omega-6 content as well. The research, conducted at MIT's Sea Grant Program, found that canned, solid white albacore Tuna is among the best sources of omega-3 in the seafood world. Our bodies need Omega 3 and Omega 6 fatty acids for heart health. Omega-3 fatty acids may help manage cholesterol, triglyceride, and blood pressure levels. Also, omega-3 fats are a crucial part of human cell membranes. Literally making us healthy from the inside out.
The canned versions are much cheaper than the fresh and versatile for a snack or a meal. I like fresh salad greens topped with canned Tuna on a hot summer night for dinner. For a balanced, cooling, and quick lunch try my low-fat tuna-salad on Wasa flatbreads and steamed broccoli.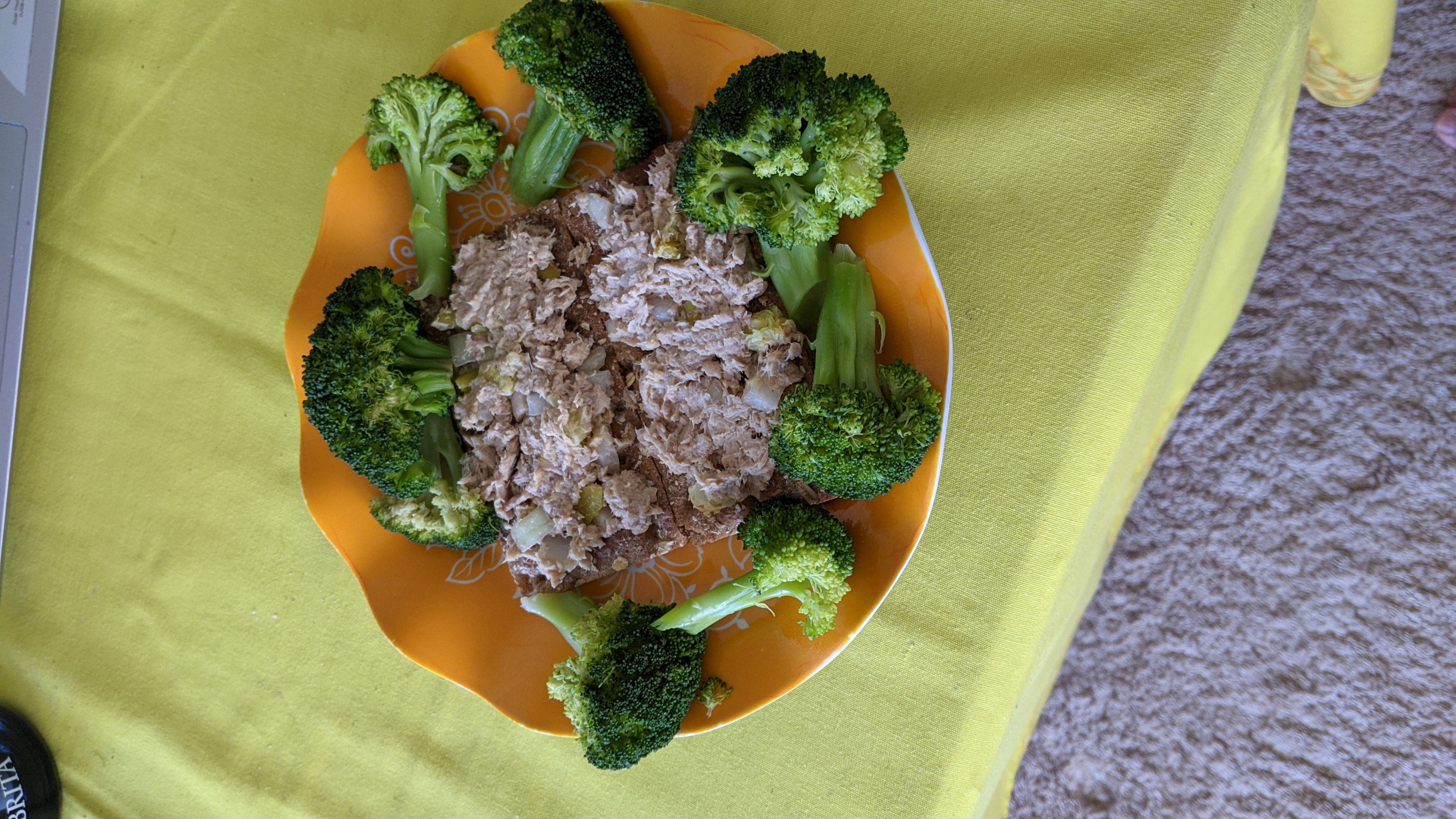 Low-Fat Tuna Salad
Mix together the following ingredients:
1 can of Tuna in water (drained)
2-3 TBSP of Roasted Garlic Hummus
¼ of an onion chopped
1 dill pickle or 1-2 pepperoncini chopped
I use hummus to replace the mayonnaise. You can use whatever humus flavor you like but for store bought my favorite for replacing mayonnaise is Roasted Garlic. The hummus binds the ingredients together, keeps the tuna salad from being dry, makes it creamy and adds flavor. All the things mayo brings to tuna salad but without the high bad fat content.
For those who want to take offense because of the overfishing, here is a list of some sustainable and responsible brands:
Tuna:
Aldi's Norther Catch FAD-Free and Pole line
Open Nature brand skipjack and albacore
Wegman's Pole and Line
Ocean Naturals brand
Whole Foods Market 365
American Tuna and Pole & Line brand
Wild Planet & Sustainable Seas brand
Salmon:
Bumble Bee Pink Salmon
SeaBear Ready to Eat Wild Sockeye Salmon
Wild Planet Wild Sockyeye Salmon, Skinless & Boneless
Try adding some fish to your diet 2-3 times a week. Fresh when you can, but on a budget go for canned.
For more nutrition tips, give us a call at 914 953-8949 for a free consult and talk about some of our nutrition programs.