I am always on the lookout for Healthy Snack ideas because as much as I love fresh fruit, or raw veggies with Hummus or bean dip, I need more variety. I particularly love salty snacks. However, most of my nutrition clients have heart issues and let's face it most mass-produced snacks are not made for heart healthy living. I am also trying to live a heart healthy lifestyle (the genetic cards are stacked heavily against me – on one side heart disease and diabetes plus gastro-intestinal issues on the other side) which makes finding healthy snacks important personally as well.
I had a bit of raw summer squash remaining and was wondering what to do with it. I got inspired by a recipe for baked cheesy squash rounds; I found here https://www.fivehearthome.com/baked-parmesan-yelllow-squash-rounds-recipe/. The little bit of summer squash I had left was a perfect way to try this recipe out.
After reading through the recipe, I made some changes because I prefer and therefore substituted Pecorino-Romano Cheese for the Parmesan. Since Pecorino-Romano cheese can be salty, I skipped the salt in the recipe. OH MY! This was delicious!! I will be making these again.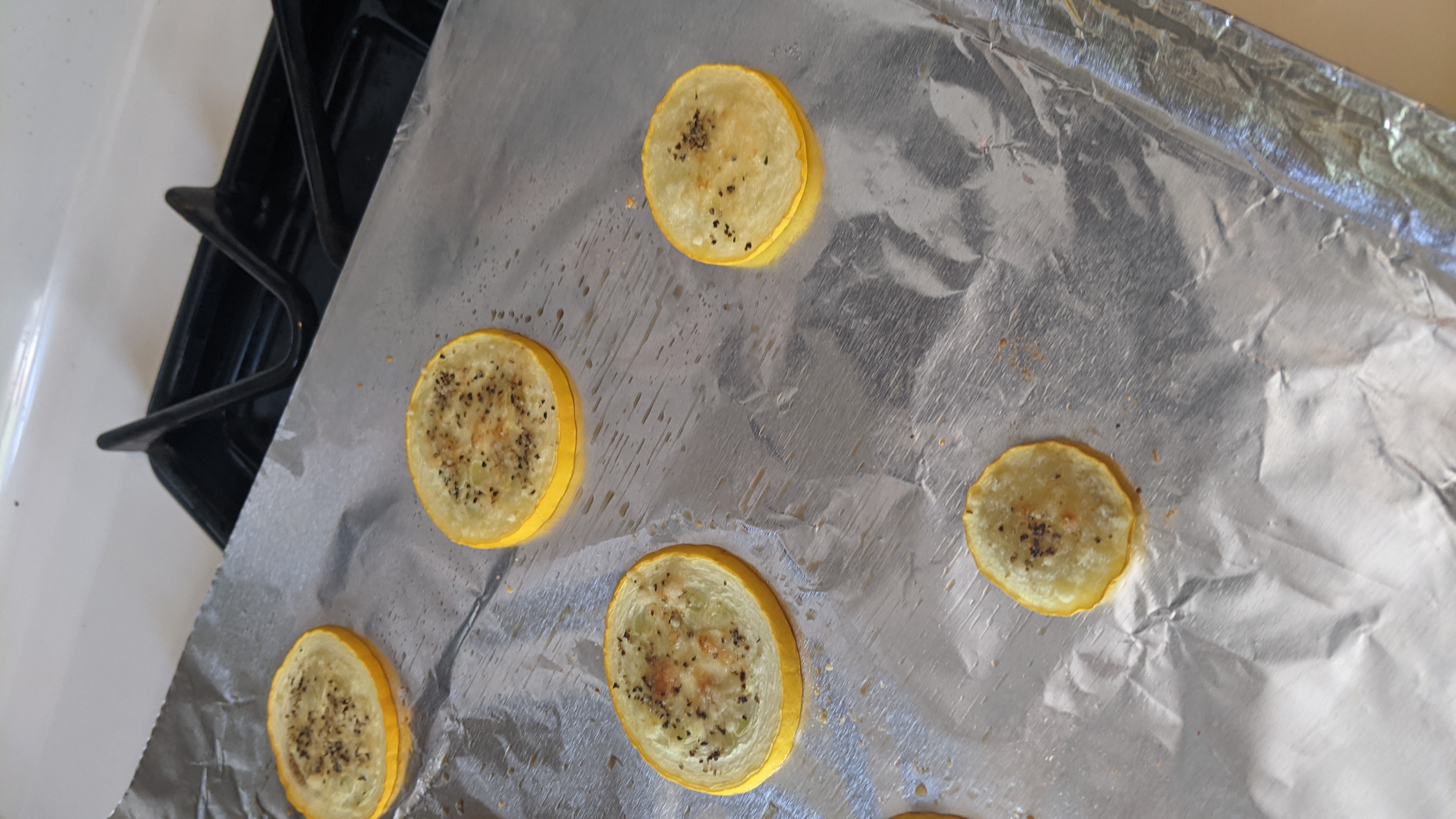 It was super quick less than 2 min prep and only 17 min in the oven. The flavor was a little too heavy on the black pepper for my taste buds. Therefore, next time I will cut back on the pepper. Also, I will finish off with a couple minutes under the broiler. I wanted the cheese a little more toasted and I think the broiler will achieve that. The website mentions broiling as an option. *Note: This is how you can make a recipe your own. Try it as listed (unless your allergic or don't like a specific ingredient). Once you taste it note what flavors you wish it had or the combination would be different. Not everyone has the same taste palette. Note it for next time; my cookbooks have lots of notes and handwritten modifications all over my favorite recipes. Just be careful you are not adding in unhealthy-fats or added sugars. This is a great reason to reach out and work with a nutrition coach.
Since I had the oven on already, I decided to cook up the Delicata squash I had on hand. Delicata squash when roasted becomes sweet and addictive (well for me anyway). It has a sturdy flavor that can stand on its own. You can also change it up and add flavors. You can go sweet by finishing with cinnamon or savory by adding curry powder. This time I added a ½ tsp of curry powder to the pepper and salt. I just added a couple of grinds of sea salt instead of the amount listed in the basic recipe from rachelcooks.com (I use as a standard base line). The two grinds of salt is just enough to contrast and bring out the natural flavors. Plus, it is low enough in sodium that it is a heart friendly recipe.
I finished the prep work on the Delicata while the summer squash was in the oven with plenty of time to spare. The total time in the oven is 20 min, but you turn the slices halfway through (10 min). These are really hard to keep from eating all at once.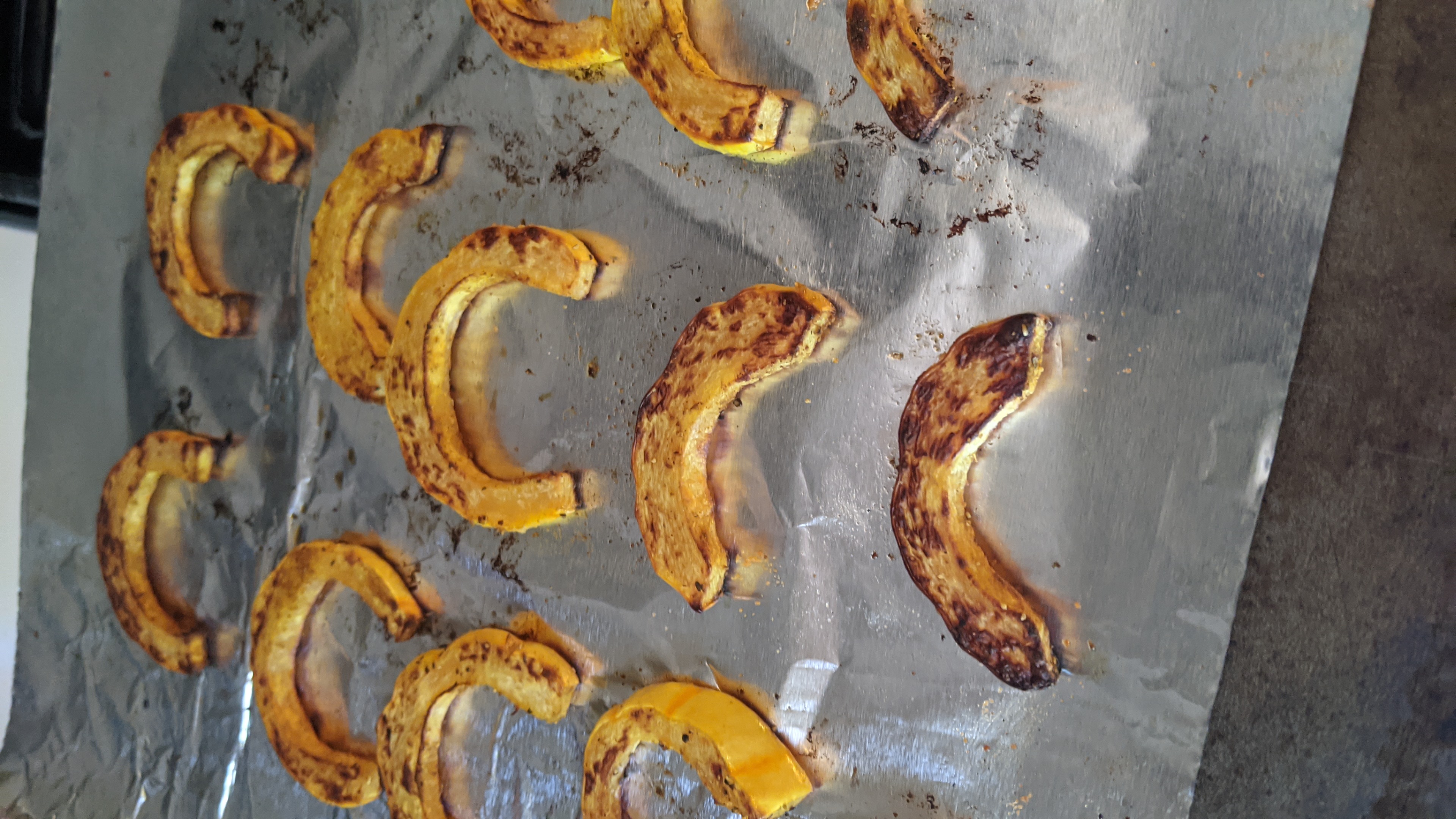 The curry turned dark brown when roasted; those are the brown patches in the pictures.
So, there you have two heart healthy and delicious homemade snacks! For me they are just as hard to not to eat it all at once as the store bought but so much healthier.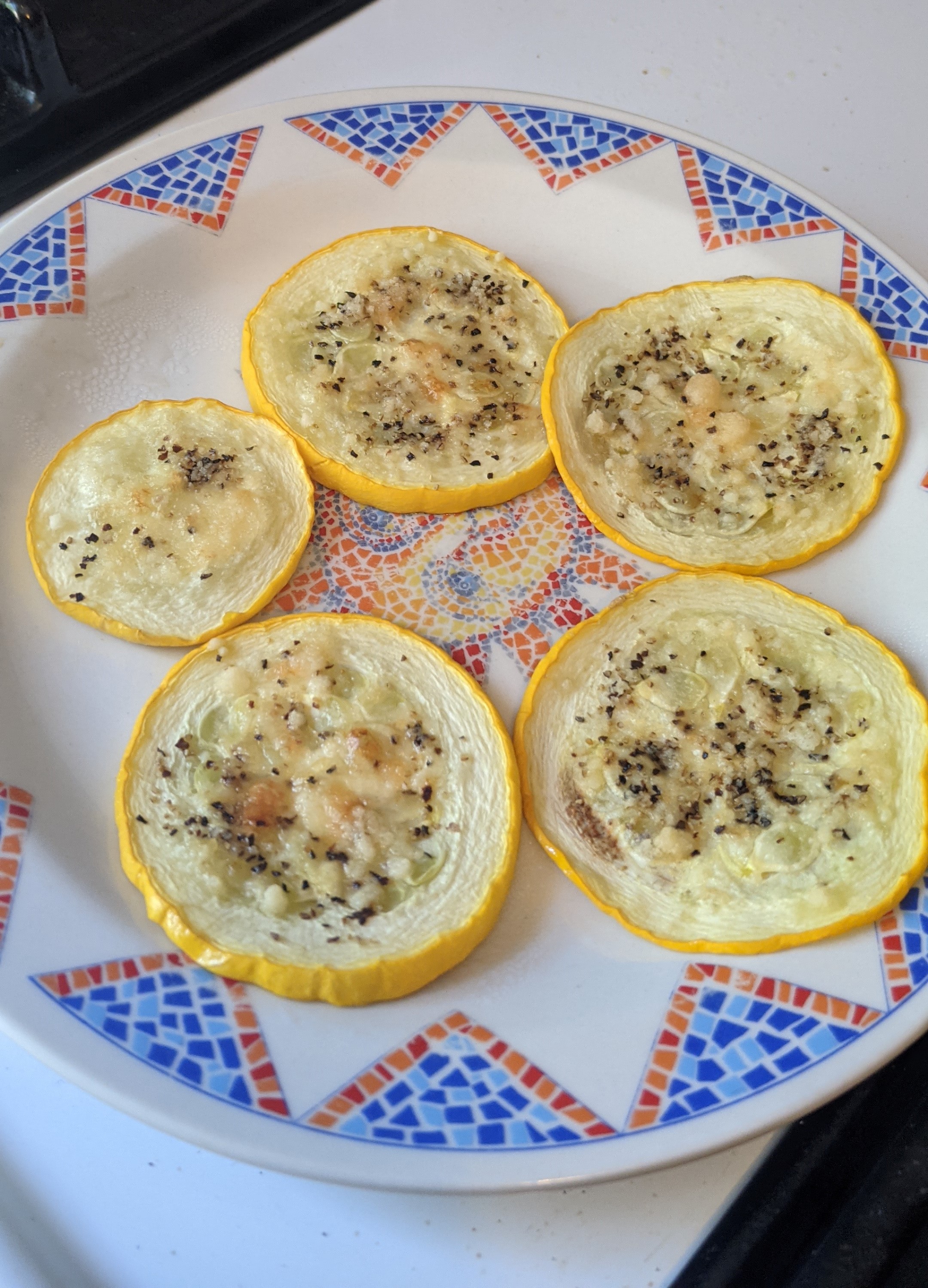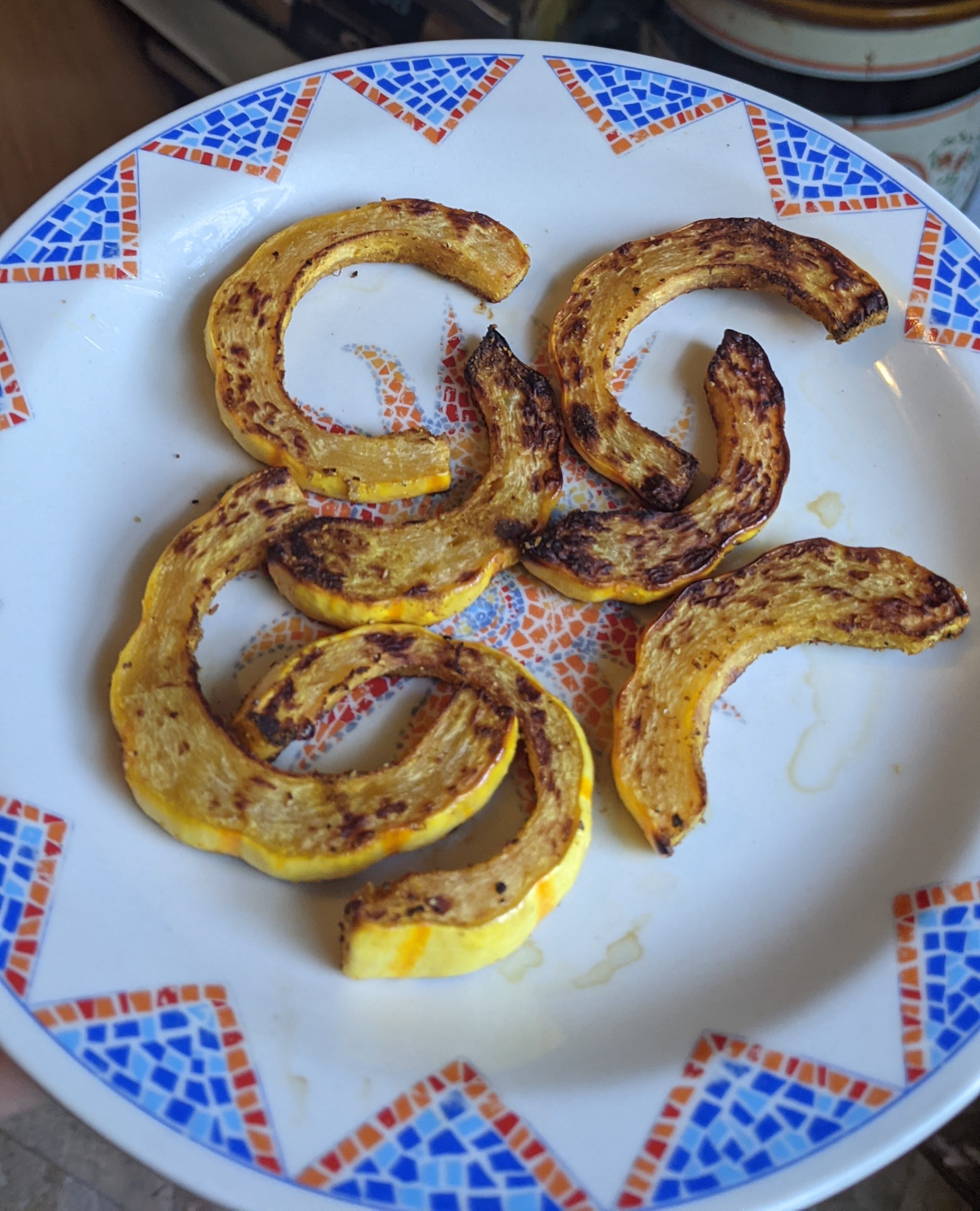 Got any favorite recipes for healthy snacks you would like to share? Add it to the comments!